Sawn Timber
For these companies looking to install a kiln drying facility, consideration should be given to the following questions.
The species of wood to be dried.
The initial and required moisture content.
Thickness of boards to be dried.
The maximum board or pack length.
The preferred batch drying size.
The required heating system.
It is only after full consideration is given to the above that we can calculate the most cost effective solution to your drying requirements.

It is widely acknowledged that most problems associated with timber products are attributed, to moisture content.
Stability & Shrinkage
Joints & Gluing Strength
Paint & Finishing Quality
Machining Quality
Construction Strength
Insect Infestation
Mould & Fungal Growth
Chemical uptake of Preservatives
Calorific Value
Etc.,
Moisture content is determined by the temperature and relative humidity of the air in the area where the product is being used or stored. As wood is a hygroscopic material it will assume moisture content in equilibrium with the surrounding atmosphere.

The following are typical moisture values for dried wood:-
Furniture & Joinery in a centrally heated environment – 10%
Flooring with underfloor heating – 7-8%
Wooden Windows – 12%
External Joinery – 16-17%
Construction Timber – 18%Pallets & Wood Packaging – 15-20%
Ground Contact Fencing prior to treatment – 26%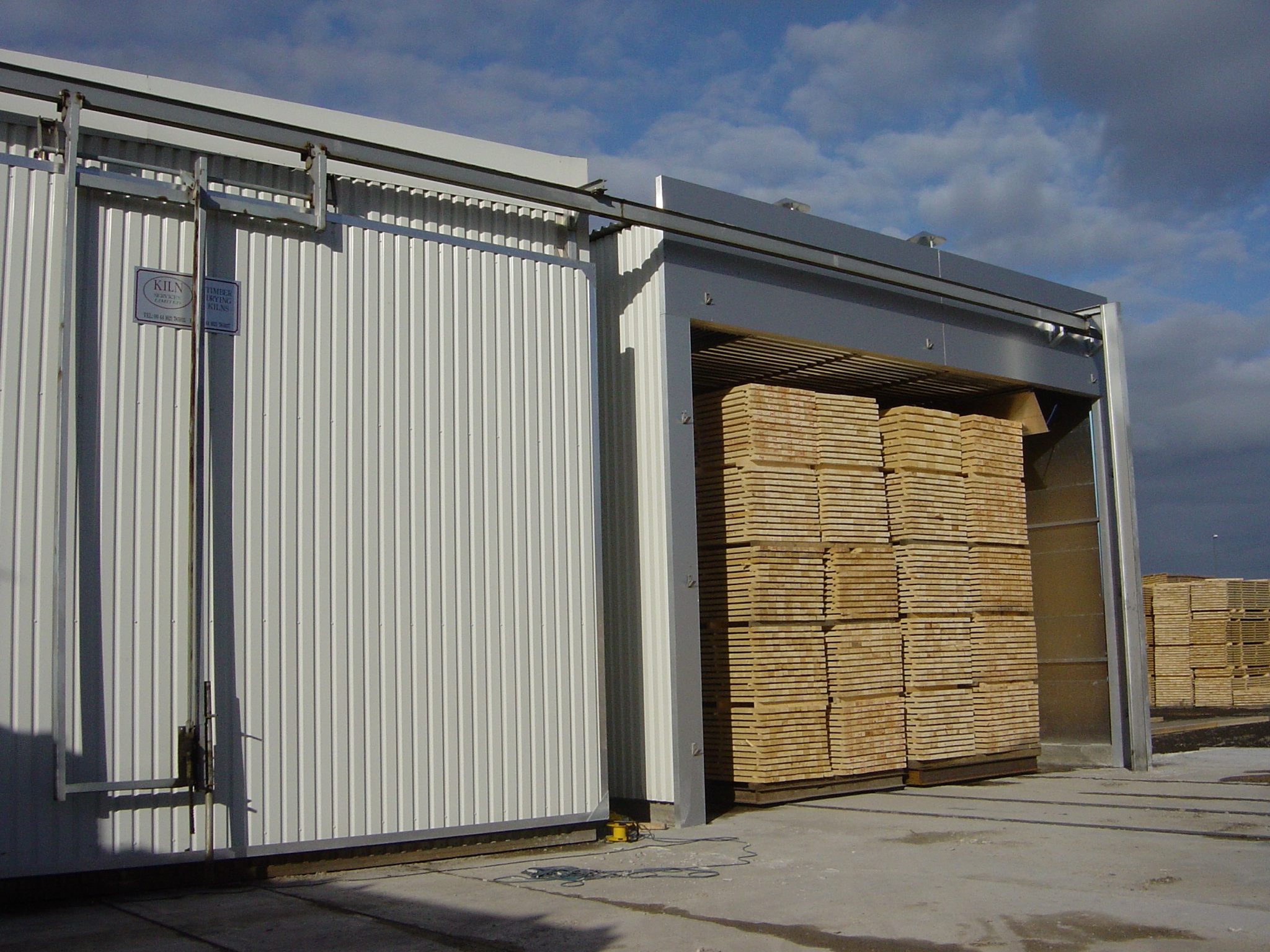 Rail through kilns each with a capacity of 250 cubic metres. The kilns have high heat output and air velocity and are used to dry Sitka Spruce for the construction Industry.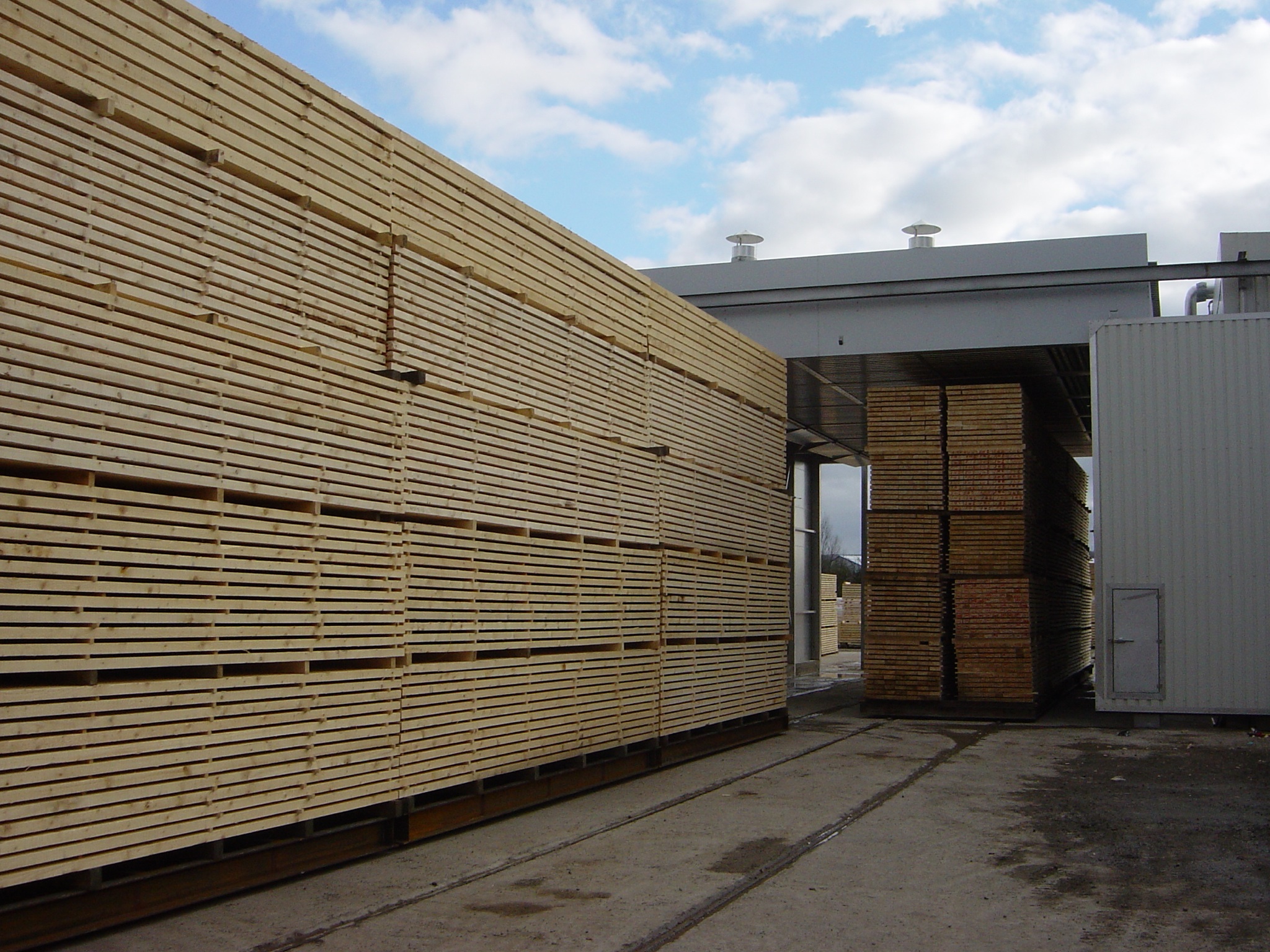 Rail through Kilns with two sets of loading trolleys. The trolleys can be loaded or unloaded whilst the Kiln is operating. This system using trolleys reduces loading time & increases throughout.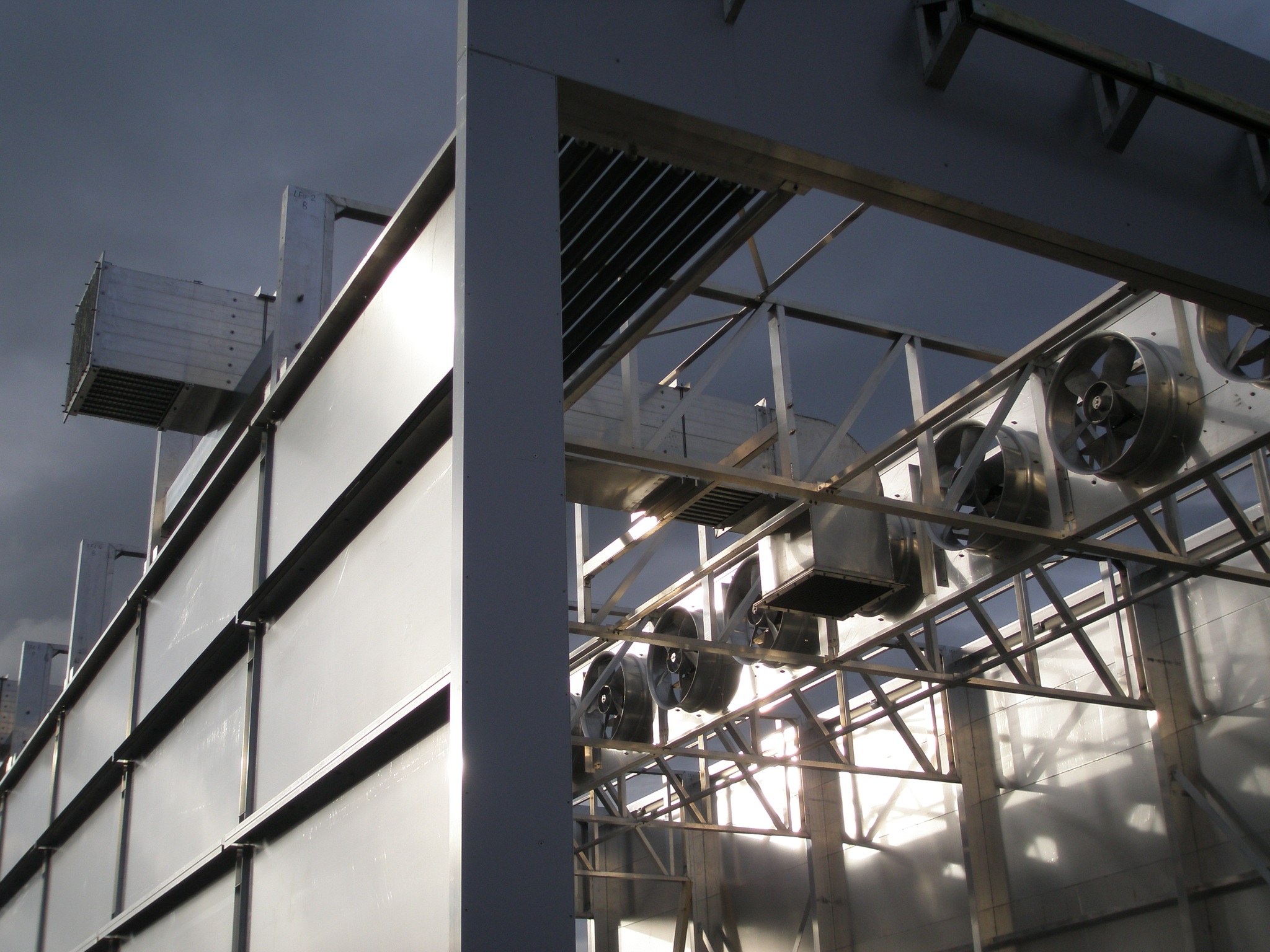 Kiln during installation showing the air circulating fans and aluminium framework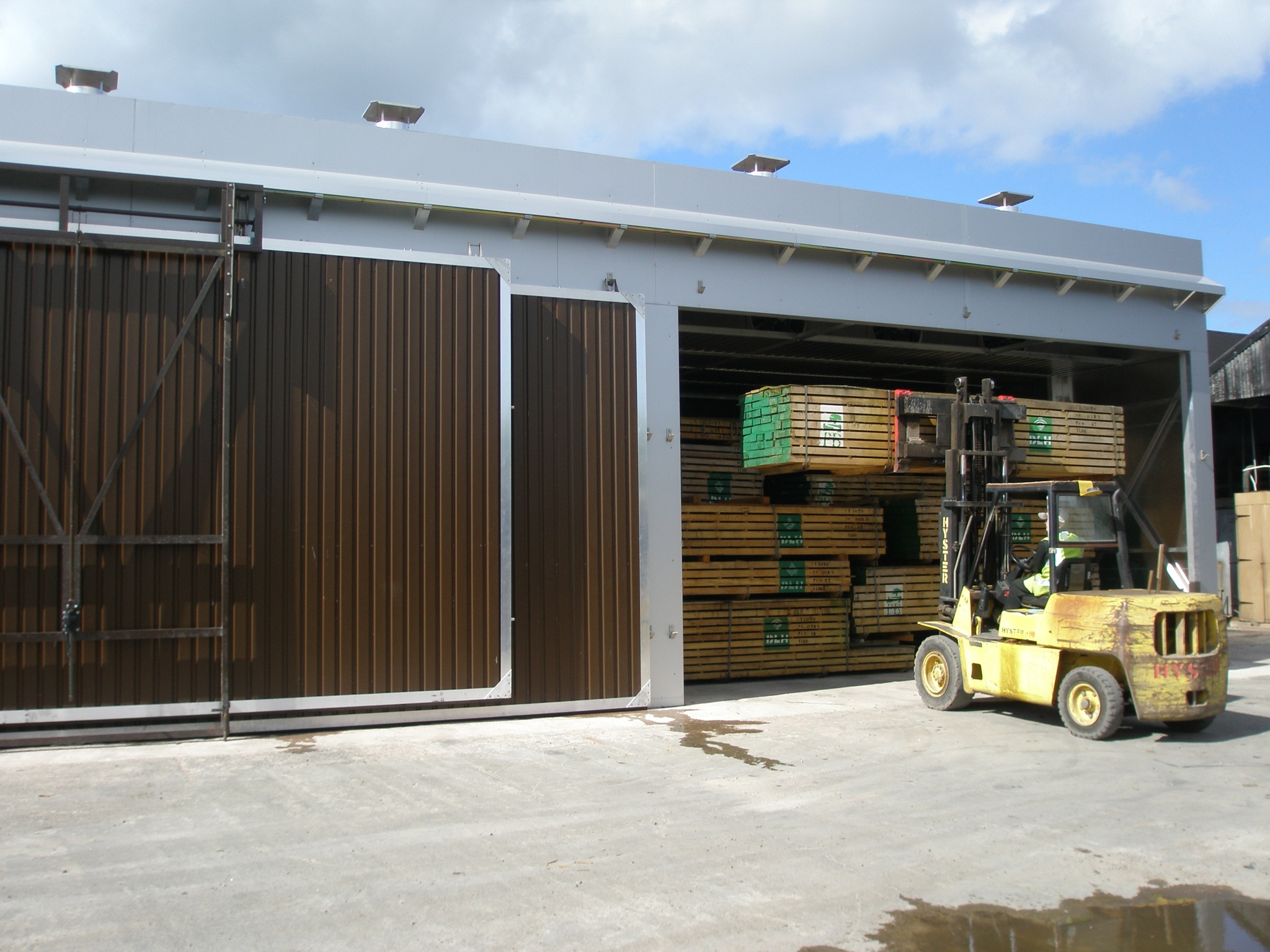 Direct forklift loaded kilns drying high value hardwoods. This installation incorporates high pressure humidification and the latest computer control systems. The kiln operator has only to enter the species, thickness of timber and required moisture content. The drying program is fully automatic and incorporates pre-drying , after drying conditioning phases.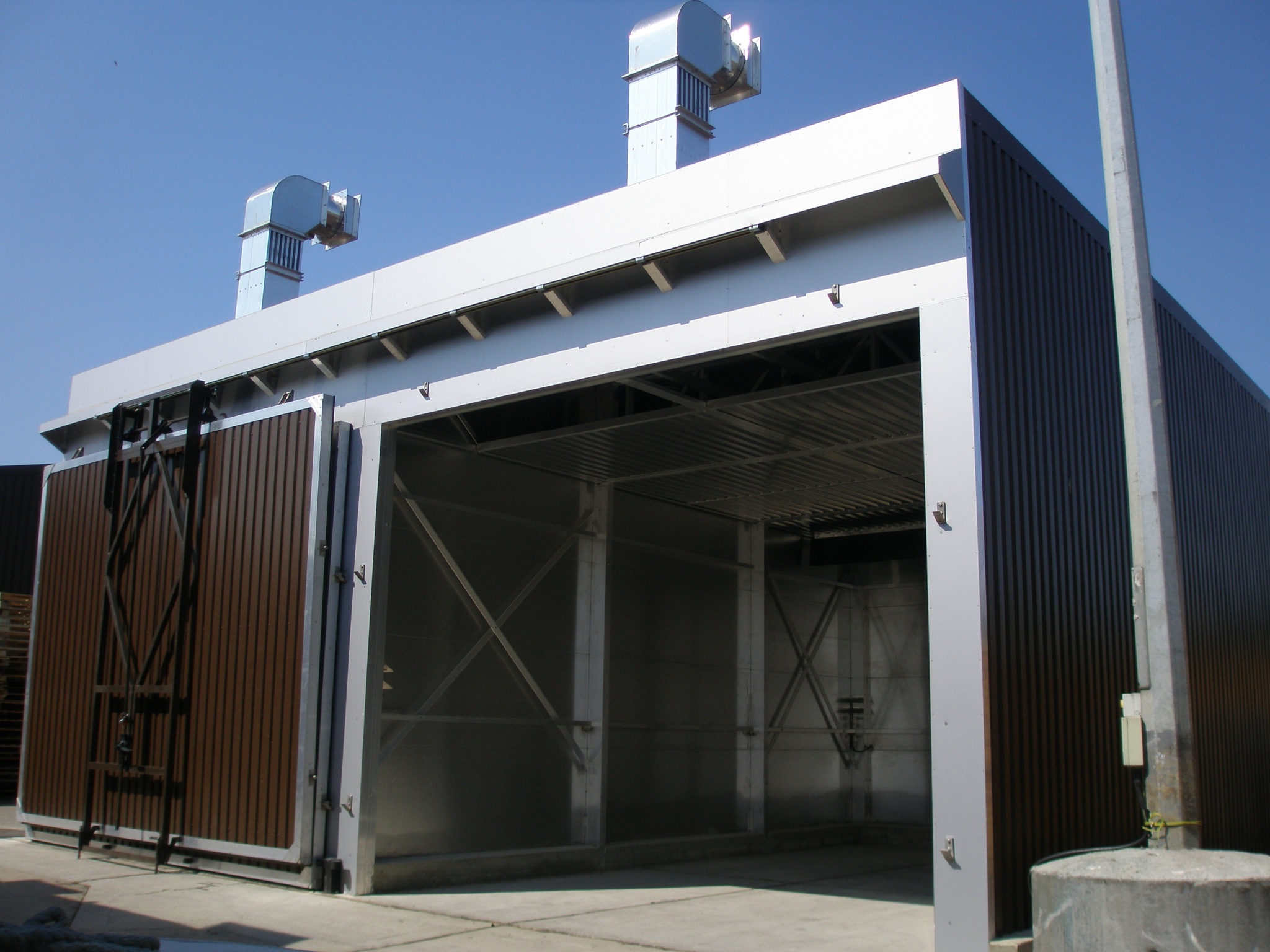 Two 50 cubic metre kilns with heat recovery systems.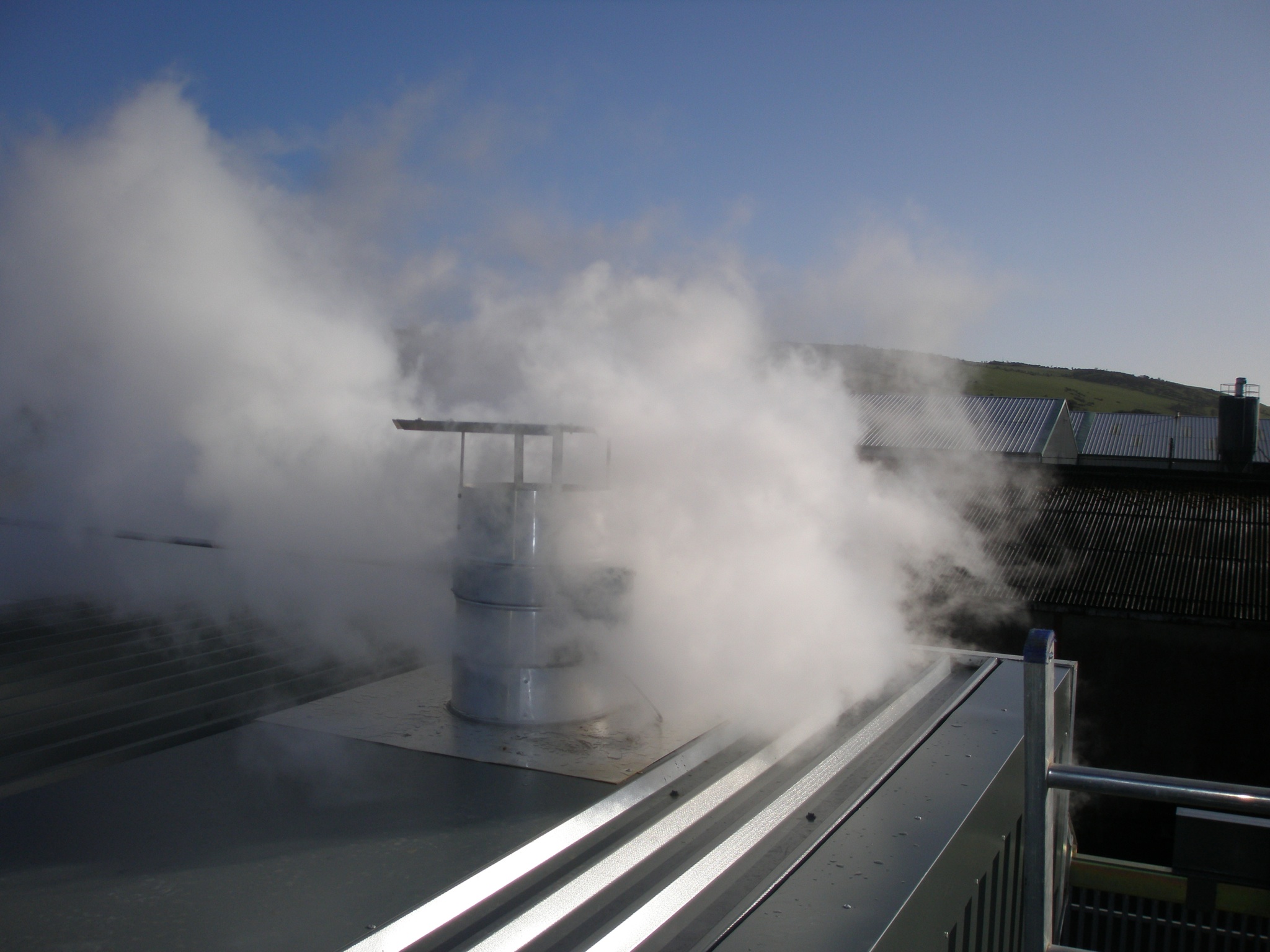 Kiln Ventilation System When the air within the log drying kiln has achieved the correct temperature & humidity, as dictated by the drying program, the ventilation system removes large quantities of moisture laden air.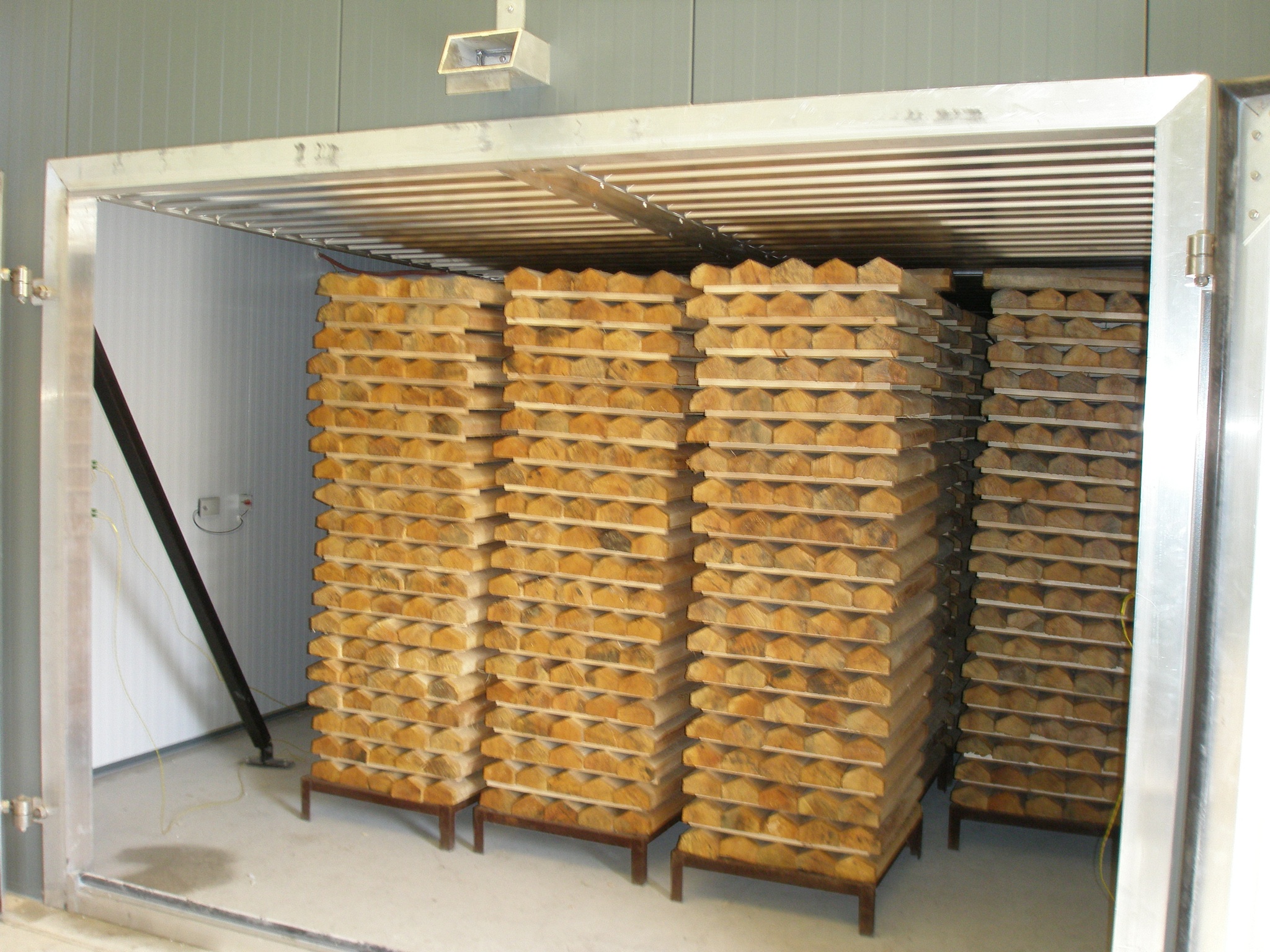 Kiln used for drying Willow cricket bat clefts prior to manufacture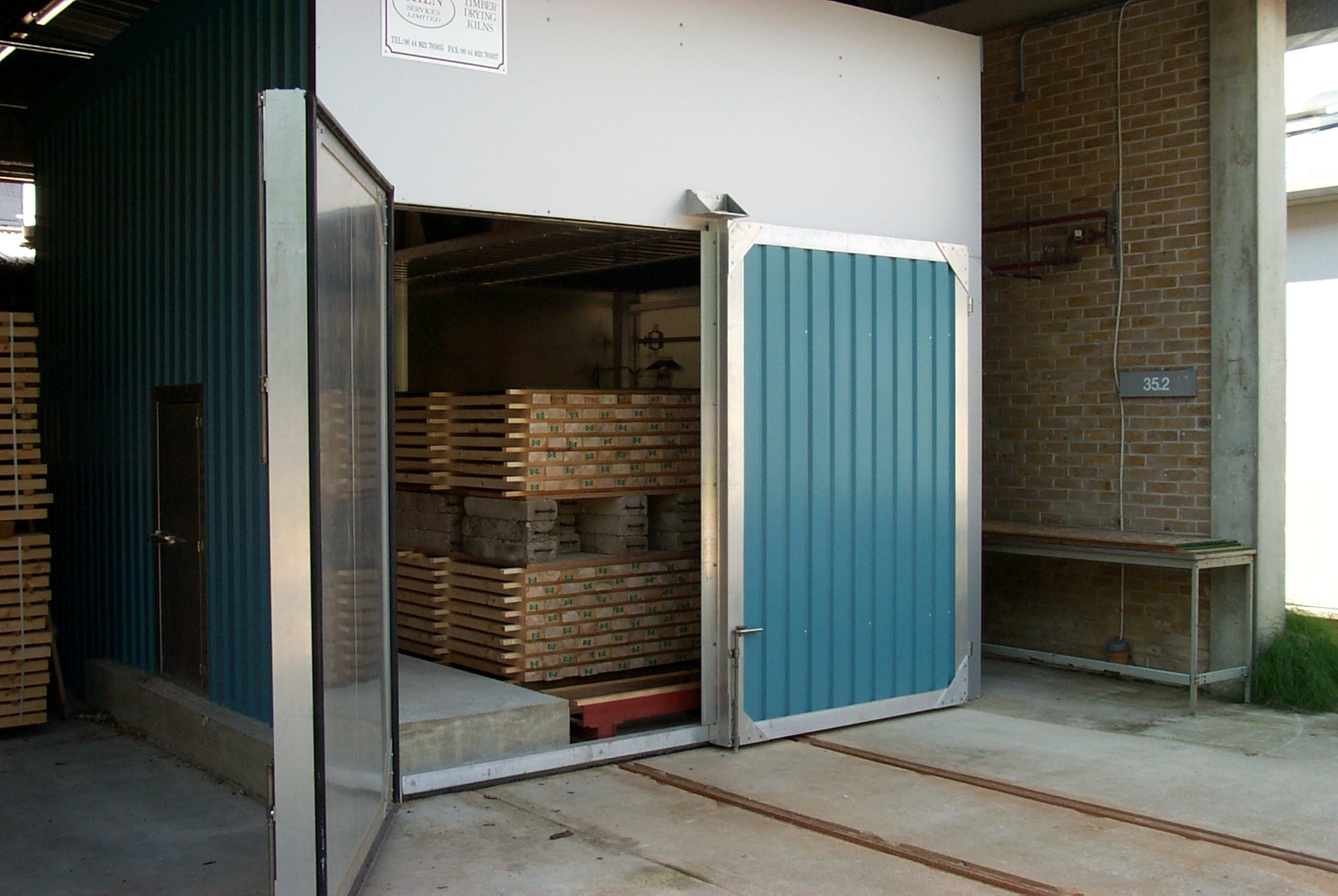 Small Kiln with capacity for four to ten cubic metres of sawn timber. Ideal for small sawmills, flooring manufacturers and larger joinery workshops.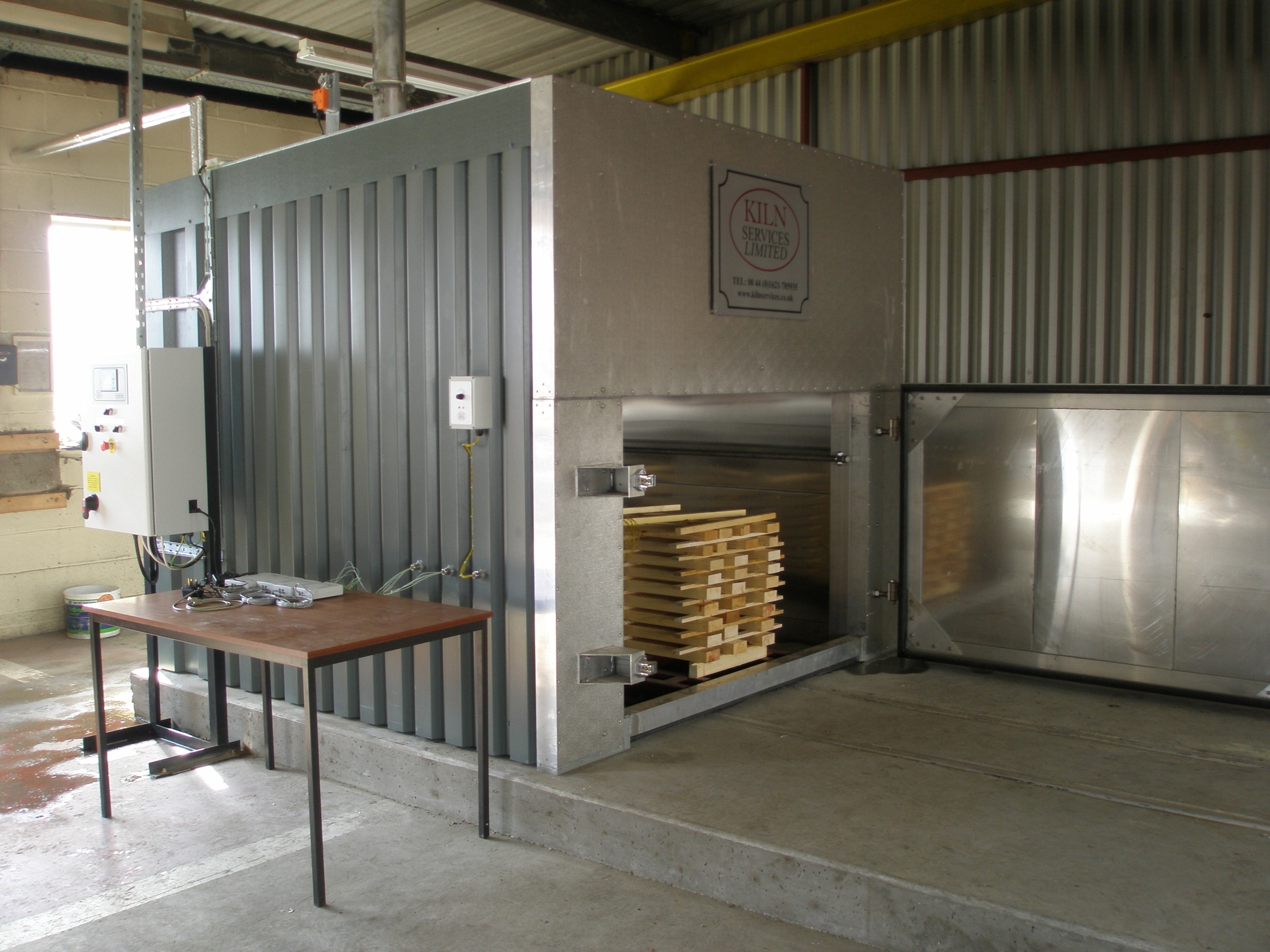 Small kiln of around 2 cubic metre capacity. Ideal for schools, colleges and small joinery workshops.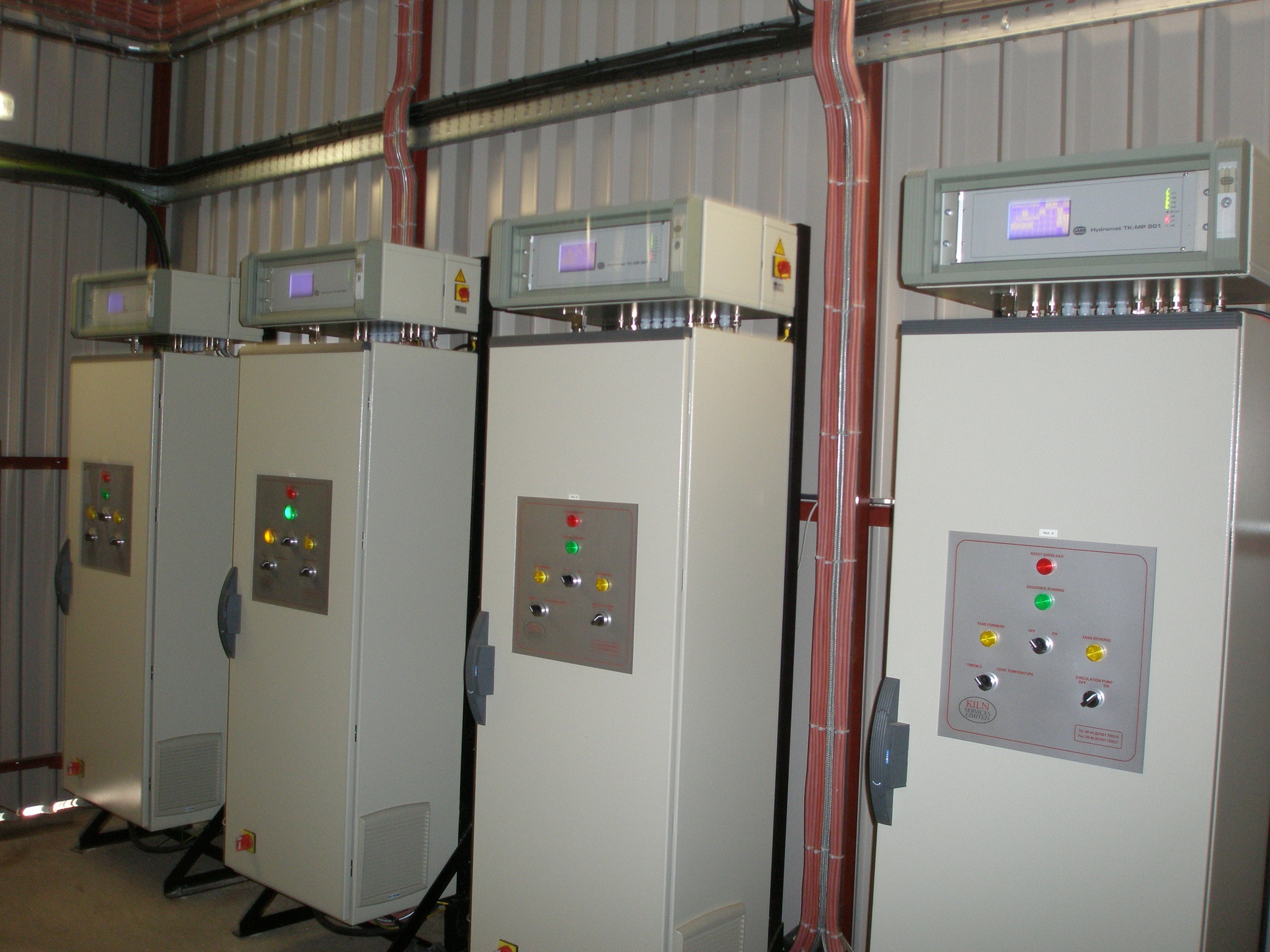 Four kiln control systems each with a touch screen peripheral computer.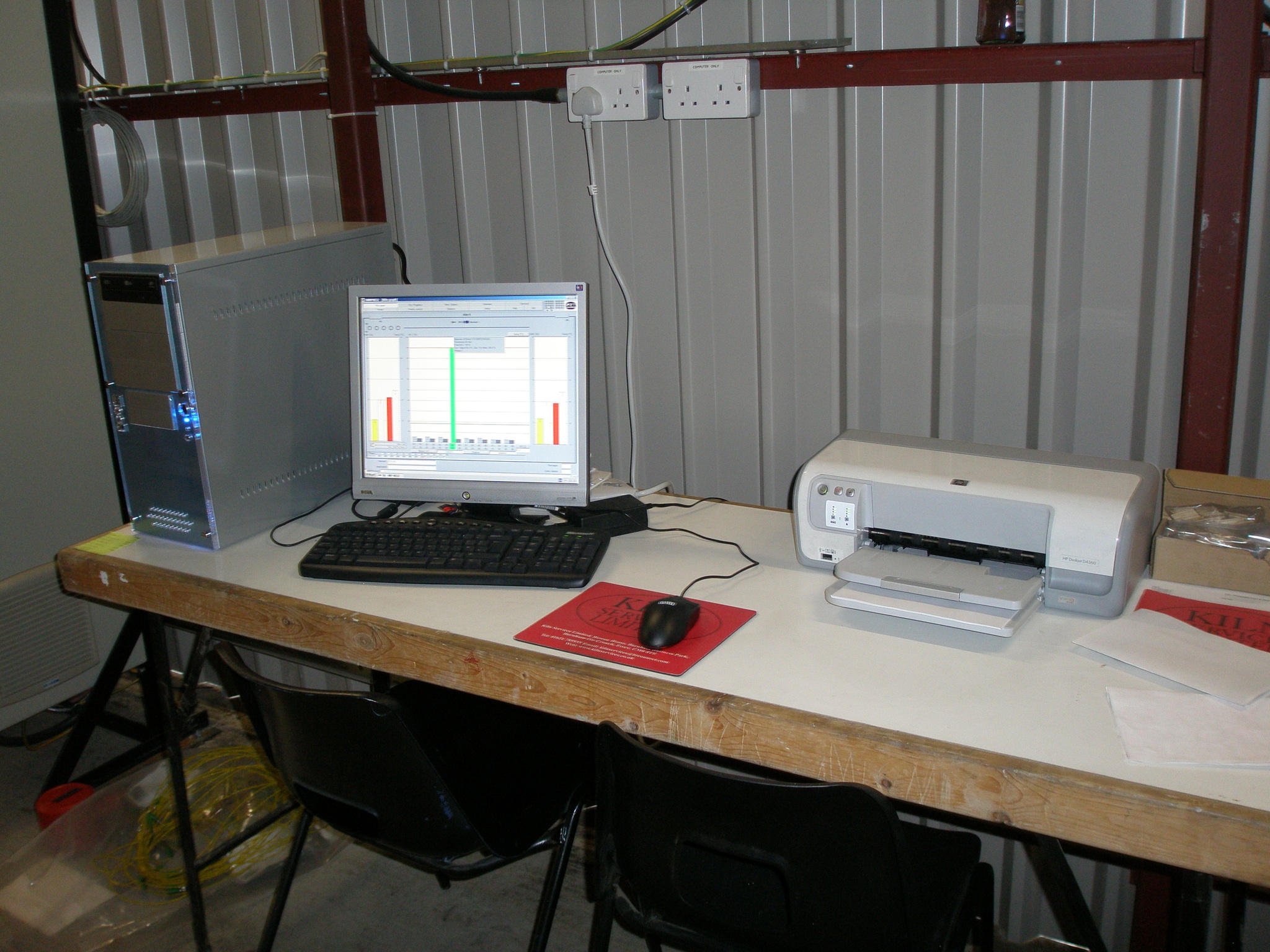 The control systems are linked to the central computer running a windows operating system with remote access.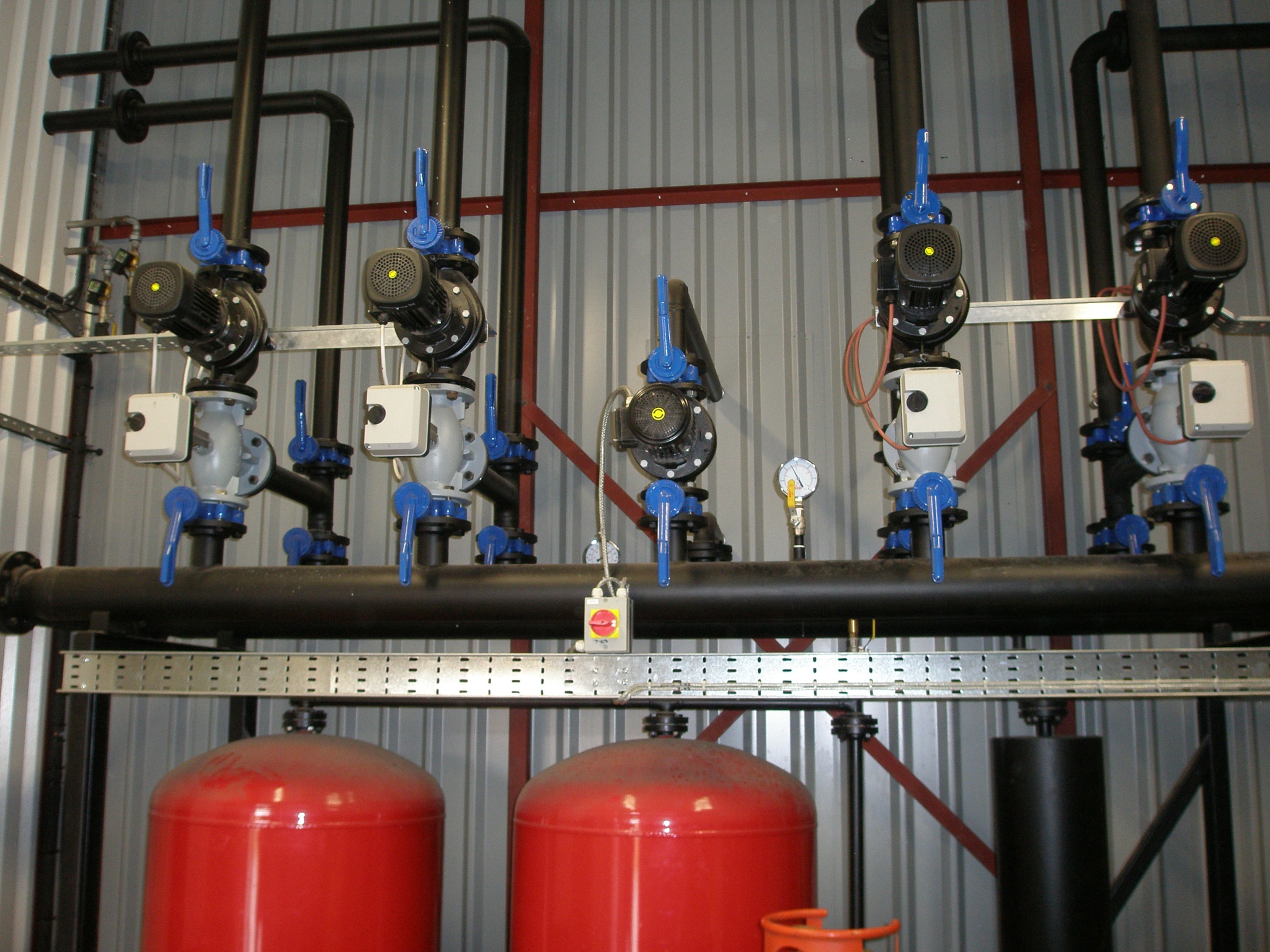 A pipe work manifold system connected to a biomass boiler incorporating pumps and control valves for four kilns.