Pallet Drying ISPM-15
Our range of pallet drying & heat treatment kilns can hold batch loads of 150 to 2500 pallets. The kilns can be loaded directly by fork lift truck or by using rail through loaded platforms. The kilns with rail through loading platforms are supplied with doors at both ends.
All control systems have fully automatic programs that meet the ISPM-15 heat treatment regulations. The heat treatment programs are controlled by the actual wood temperature and are designed to use the minimum amount of fuel.
When drying pallets there are three types of control systems:-
Time Based Control with moisture content display.
Time Based with moisture content control with up to eight moisture measuring points.
Drying by Weight with moisture content display and up to eight moisture measuring points.
Heat treatment certification tests and full training of operating staff is included in the commissioning of all heat treatment kiln plant.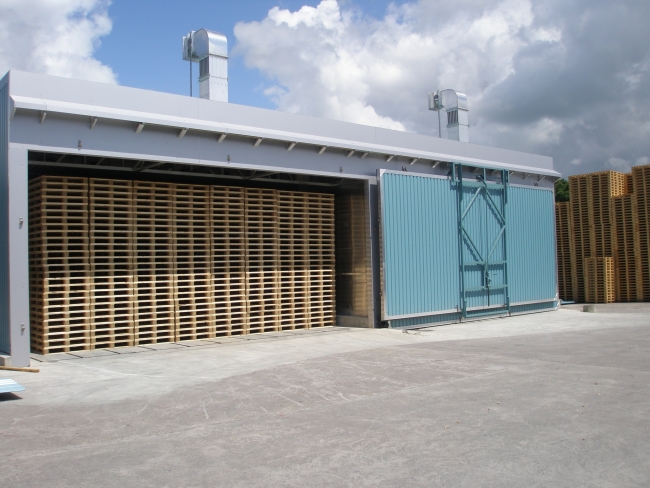 Two pallet drying / heat treatment kilns each holding 1400 euro pallets.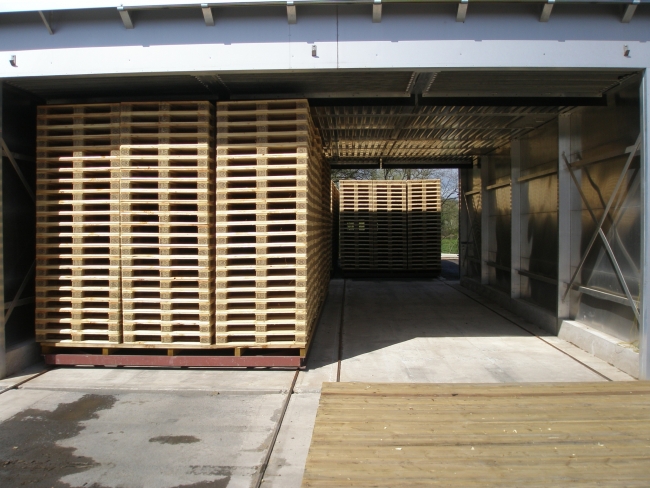 Rail through pallet drying kilns for high volume production.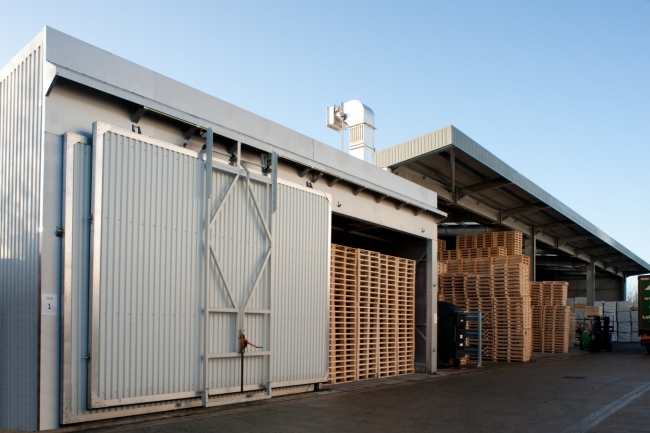 Two direct forklift loaded pallet drying & heat treatment kilns. Each of the kilns can hold 600 standard or 700 Euro pallets. The kilns are heated using a Biomass boiler and are registered under the Renewable Heat Incentive scheme. The drying control system is fully automatic and has specially designed heat treatment and drying programs.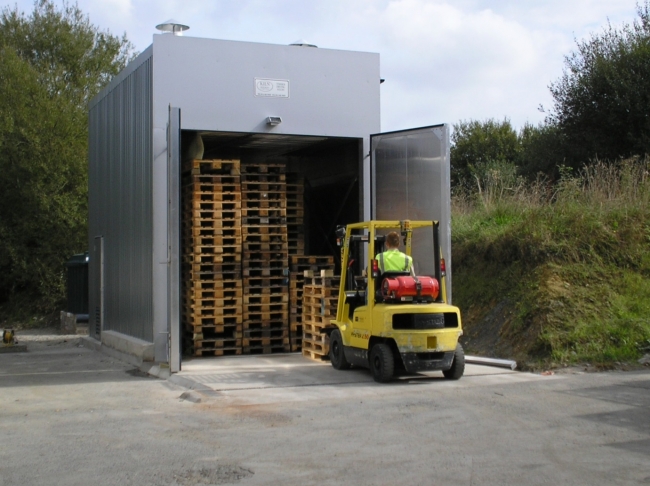 A single module pallet & heat treatment kiln that holds 150 pallets in stacks which are 25 pallets high. Each batch load of pallets is heat treated in approximately 4 hours. The kiln is extremely efficient and can heat treat 450 pallets per day. This kiln can be extended by adding additional modules, increasing their capacity to heat treat 900 pallets per day. The kiln control system is fully automatic and can be used to dry pallets down to a specific moisture contents thus eliminating the possibility of Blue Stain and Fungal growth.